Comissário Avila accompanies me to the Hotel Atrio in Estreito da Calheta, high above the south coast of Madeira …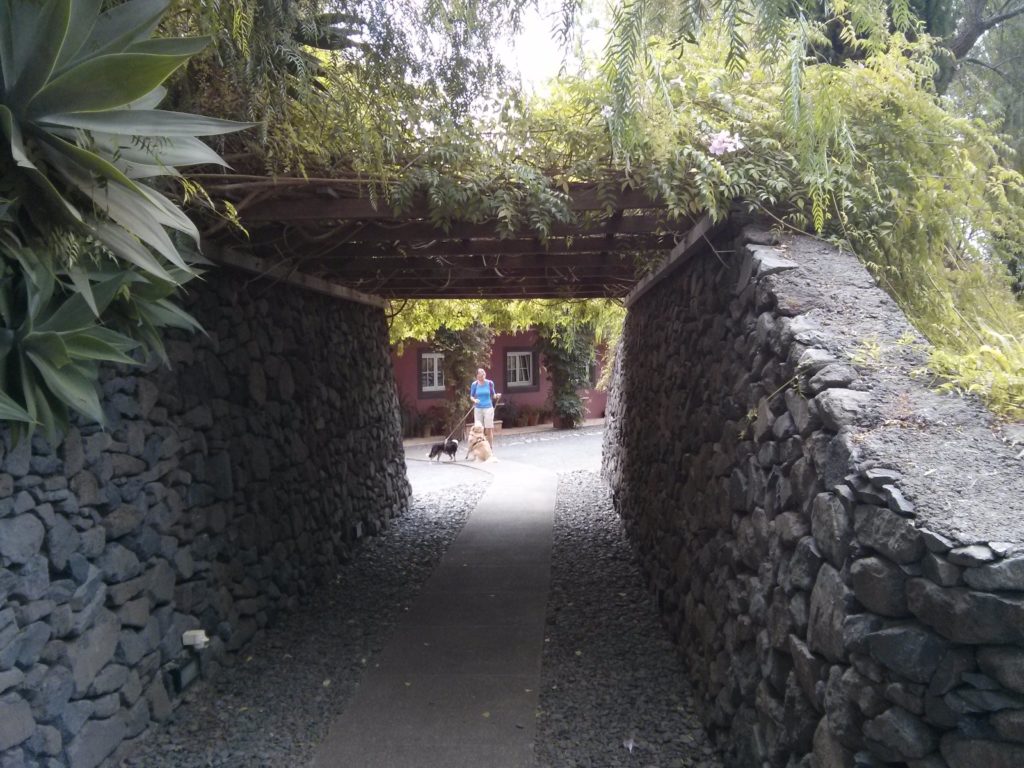 "This place looks almost like the hotel where Leticia and I spent a stormy weekend." The Comissário looks at his author critically from the side. "Do you have anything to tell me?"
We walk through the bricked driveway towards the entrance. Coarse gravel crunches under my feet. In front of us the densely overgrown rust-red main building of the Atrio appears. Through a small archway we enter the green courtyard that gave the hotel its name.
"Isn't it in this courtyard that Leticia and I sat? I recognise the metal bird that guards the fountain here!" Avila points to the crane standing among citrus trees next to the small fountain. Protected between round arches, cosy wicker chairs invite you to linger. But I am drawn to the garden with its wide view over the Atlantic Ocean.
Avilla's gaze is caught by the turquoise tiled swimming pool.
"What does the hotel manager actually say about the fact that you have placed a corpse in her beautiful pool?"
Embarrassed, I scratch my head: "Well, it's not quite like that. The pool here just looks a bit like in "Madeirasturm", it lacks the big clay vases."
"And I see the callistemon bush is still standing and not floating in the pool next to the corpse!" Avila points to the red feathery blossoms of the tree that provides shade for the guests next to the lush hibiscus hedge on the terrace.
"Do the flowers always remind you of a bottlebrush too?", I try to distract.
But my Comissário will not fall for such a cheap trick. He looks around curiously.
"At least you didn't exaggerate with the variety of flowers in this garden. I would hardly be able to get Leticia out of it. Have you seen the Proteas and the Firefly? He points to a firework of round flower heads, orange and red, composed of many small individual flowers.
"How do you know so much about plants?" I ask him admiringly.
"My best friend is a gardener, have you forgotten that again?" Avila smiles at me. "And what Carlos doesn't teach me, Leticia tells me. She has turned our garden in Garajau into a flower paradise."
He turns towards the main house.
"I'm getting hungry. I remember a delicious dinner I had in the dining room. Let's hope that part of it wasn't the author's fantasy."
"I can promise you that. Emmanuelle and Mikael Loret will surprise us with a delicious dinner." As we open the glass door to the restaurant, the smell of freshly baked cake wafts from the kitchen.
Satisfied, Avila plops on one of the wicker chairs and takes a look at the menu.
"I think I will start with a Caldo Verde. After that there should be room for an Espada com Banana. Or should I have a tuna steak after all?"
"As long as you have room for dessert afterwards. That cake smells amazing."
Avila raises her eyebrows. "You should know me better. With an offer like this, I'm only happy once I've eaten my way through this menu completely. Especially when Leticia is not there and checks me. Are you driving? I just saw a wonderful Verdejo on the wine list.
A short time later, Avila lifts his glass, filled with golden shimmering Madeira.
"Now tell me why you came all the way from Funchal with me today to show me this? By Madeira standards, this is quite a distance for an excursion. Okay, it is remote here and we have peace and quiet…"
"Do you know how much the small hotels are suffering right now because the tourists are not coming because of the current regulations," I reply. "Flights are constantly being cancelled and many are afraid of the uncertainty of what a holiday might look like in these times. Especially small, lovingly owner-managed hotels like this one have to fight for survival now".
"That is sad! This area had to go through a lot of trouble two years ago anyway because of the fires. Have you seen the burnt tree trunks along the Levada Nova? It's a shame." Avila shakes her head.
"Fortunately the Atrio has been spared and we can now enjoy the wonderful peace and quiet far away from the tourist strongholds. Of course the visitors here need a car. But that makes sense for holiday on Madeira anyway. How else can you get to the fairy forest in the Fanal or see the green jungle of the Levada do Rei in the north-east?"
"You are absolutely right, we should tell about this beautiful place. It would be too bad if these little escapes disappeared." Avila cheers for me. "Saúde! I can't wait to see where you'll take me next.
Atrio Madeira
Caminho dos Moinhos 218
P-9370-247 Estreito da Calheta
Madeira – Portugal
Unpaid advertising
Read More?:
Impressionen einer Lesung im Hotel Atrio auf Madeira: »Blut und Blüten«